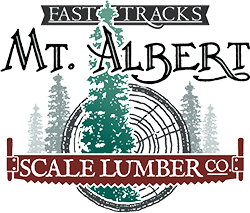 Mt. Albert Scale Lumber Information
Information about the transition to Fast Tracks
In February 2017, we announced that Fast Tracks had bought Mt. Albert Scale Lumber. Since then, we've been quite busy prepping the space in the Fast Tracks shops to accommodate all the machines and inventory from Mt. Albert. We thought it would be worthwhile to post some detailed information about how to order Mt. Albert products from Fast Tracks, as well as what will change and what will stay the same.
Gerry Cornwell and I have been working hard sorting out all the details of the transition, preparing the space, and coordinating the move. All of that has gone very well, and this past summer, the last of the items were relocated from Stoney Creek, Ontario, to Port Dover, Ontario.
I'm sure you are wondering…
What's going to change?
We thought we'd take this opportunity to let you know about what will change and what will stay the same. First of all, one thing that isn't changing is the price you pay for our products; there will be no price increases as a result of the transition to Fast Tracks. Also, we are working closely with Gerry to ensure the high-quality products you are used to receiving will remain high quality. Gerry has always prided himself on supplying the best possible wood products available, and we will do the same.
Part Numbers
To mesh the Mt. Albert products with the systems that Fast Tracks have developed over the years to make ordering and fulfillment as smooth as possible, we've had to make some changes. The most noticeable change will be the part numbers.
Fast Tracks has a very specific method of numbering its products, and for a very specific reason. We use a bit of a descriptive part numbering system so it is easy for others to identify what the item may be. The part numbering system Mt. Albert has used in the past did not lend itself to easily identifying what the product is. Those part numbers were also incompatible with our back-end systems, so the decision was made to change them.
For example, the Mt. Albert part number MA109P12 is an HO scale 2×4, 12″ long. The Fast Tracks part number will be ST-HO-2×4-16.
Where:
ST = Stripwood
HO = Scale
2×4 = Size
16 = Length
All Mt. Albert products will be renumbered to reflect this system. While on the Fast Tracks website, use the search tool to enter in the old Mt. Albert part number to find the corresponding Fast Tracks part.
Stripwood Lengths
Another noticeable change will be the discontinuation of 12″ and 24″ lengths of stripwood. These lengths are going to be replaced with a single 16″ length. All our packaged stripwood will be sold only in 16″ lengths going forward. The 24″ stock Mt. Albert had on hand has been cut down and repackaged to 16″ lengths.
This was done for a couple of reasons, but mainly to reduce the cost of shipping. Material over 23.5″ long is quite expensive to ship, and one of our goals was to maintain Fast Tracks FREE SHIPPING offer. Customers purchasing from our site are eligible for free shipping if the order is over $100. In order to continue that offer, we had to shorten the length of stripwood offered. Commercial customers that receive deep discounts (40%+) are not eligible for free shipping, which would represent about an additional 10-15% discount, and we can't offer that deep of a discount and still remain profitable. That said, switching to 16″ lengths means your shipping costs are also reduced. 24" lengths of stripwood are available in bulk quantities, and a minimum order of 50pcs per size is required. A small shipping surcharge may be applied on orders with 24" long items in them.
Packaged Stripwood Quantities
In addition to changing the lengths of stripwood, we have also simplified the quantities of pre-packaged stripwood. We will be offering stripwood in quantities of either 6 or 12 pieces, depending on the size of the material. This will help streamline packaging and make determining quantities needed less confusing for customers.
These changes required re-calculating the prices of pre-packaged strips. We have worked out the price per inch and priced the packages accordingly. As stated earlier, the prices have not increased, but they have changed to reflect the different lengths and quantities per package.
Placing an order with Fast Tracks
Ordering Mt. Albert products from us is very simple through our website. All orders can be placed through our 100% secure website. This allows us to produce, package and track your order carefully through our well-established order management system. We have invested heavily over the last few years to build a state-of-the-art eCommerce website. To order, simply log into your account on our site, add the items you wish to order to the cart and simply check out. A follow-up email will be sent confirming your order, as well as several more to keep you up to date on the progress of your order as it works through our systems. When your order ships, you will be provided via email with tracking information.
Paying for your order
You can now pay for Mt. Albert purchases with a credit card or PayPal. There are several payment options when paying for an order placed on the Fast Tracks website. You can pay with all major credit cards using our 100% secure payment system (no credit card information is stored locally). We also accept PayPal, wire transfers as well as a checks by mail.
We are unable to set up and maintain open accounts and cannot issue invoices or extend credit. Orders must be paid for at the time they are placed on our site. We bill credit cards when the order is shipped.
You can pay by check as well. When the check is received here, we will ship your order. If you select the check option, a follow-up email will provide details of what is needed for the payment.
I think that covers everything. There will likely be some other smaller changes but nothing major. We will keep you in the loop as we go forward in this exciting new chapter for Mt. Albert Scale Lumber and Fast Tracks!