FREE CNJ Bronx Terminal Print Offer
Orders over $500 are entitled to receive a FREE CNJ Bronx Terminal Print!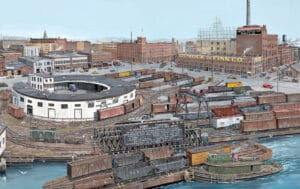 Back in 2013, to mark our 10th year in business, we commissioned an original painting from renowned railroad artist Larry Fisher. The CNJ Bronx Terminal seemed like the ideal subject as it featured plenty of complex trackwork, plus a great mix of vehicles, rolling stock, and marine operations. The final painting is packed full of great detail and will make a great addition to any layout room!
We sold off most of the prints but recently found 42 unsold, signed, and numbered prints. We decided to offer them FREE ($150.00 value) to any customer that places an order of $500 or more until they are gone.
If your order is over $500 (before shipping fees) we will follow up with you to confirm if you'd like to receive a print. If so, we will include it with your order when it is shipped at no extra charge! Valid only in North America (these things are expensive to ship!)