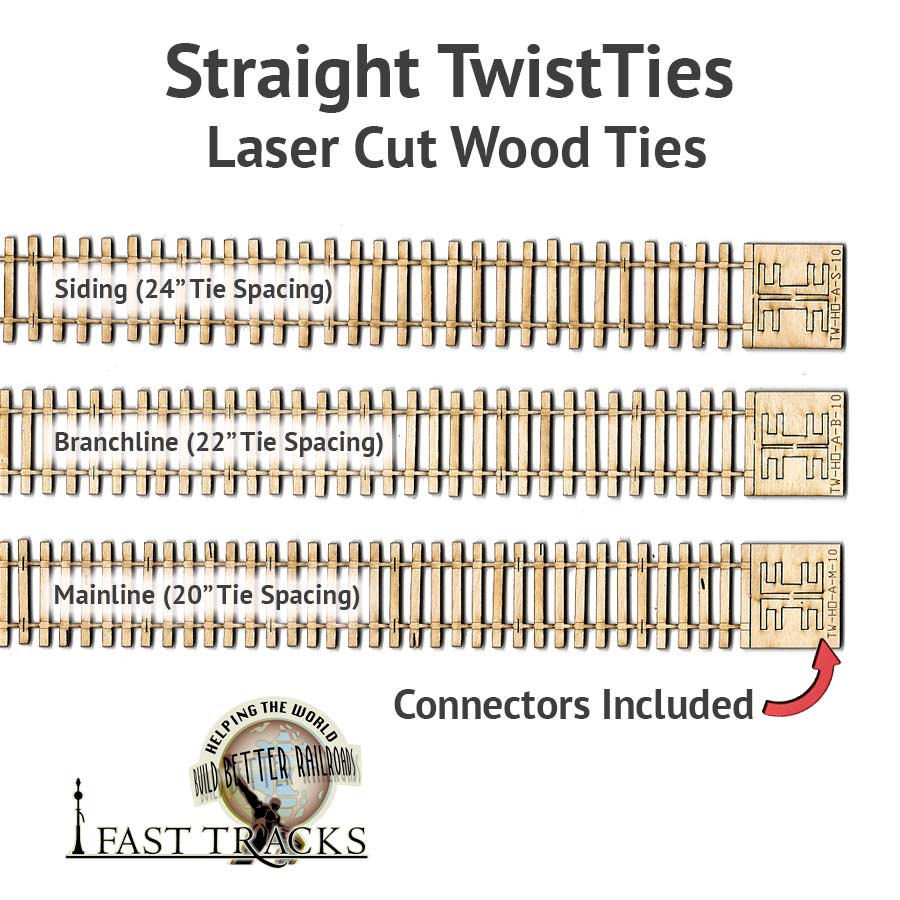 2 In Stock
We can ship the TW-S-A-B-10 immediately. If you order more than what we have available, we will hold your order and add additional units required to our production queue. The lead time for this product is shown above.
PRICE : $5.19
2 in stock
S TwistTies crosstie strips for Branchline track provide the craftsman with a fast and efficient method for building realistic looking and accurate straight sections of track with ease using all wood tie construction.
Each laser cut TwistTie strip is a 10″ (300mm) lattice of interconnected wood ties that can be glued or spiked directly to the roadbed. TwistTie strips have pre-drilled holes in every 5th tie for spiking rail.
Strips can be linked together using our TieClip connector to form strips of any length. Strips can also be connected to any other Fast Tracks TwistTie or QuickSticks product (used to construct Turnouts, Wyes, etc.) and can be shortened if necessary.
Fast Tracks TwistTies:
Eliminates the tedium of placing individual wood ties
Fixed geometry ensures dead straight track
Can be easily spiked
Strips can be connected to form strips of any length
Strips can be connected to other Fast Tracks QuickSticks or TwistTie products
Includes pre-drilled spike holes for easy spiking
Includes etched guidelines to verify rail location
Matches the tie height of most commercial track products
Are NMRA Compliant
TwistTie Flexible Crosstie Strips are cut from pliable Baltic Birch plywood custom sawn specifically for Fast Tracks. The ties are 0.14" (3.6mm) 9 scale inches wide, 1.59" (40.4mm) 8.5 scale feet long and 0.11" (2.8mm), 7 scale inches thick, and will match commercially available wood ties and flextrack.
Each strip includes a TieClip connector for connecting the strip to another crosstie strip. You can order additional TieClips here.
PARAMETER
VALUE
DETAILS
Tie Spacing (Prototype)
22" (559 mm)
Tie spacing center of tie to center of tie.
Tie Size (Model)
L - 1.59" (40 mm)
W - 0.14" (4 mm)
H - 0.11" (3 mm)
The actual size of the tie.
Tie Size (Prototype)
L - 8.5' (2.6 m)
W - 9"(229 mm)
H - 7" (178 mm)
The original tie size that the model was based on.
Strip Length
10"
Weight
0.035 lbs (0.016 kg)
Material
2mm thick 3 Ply Baltic Birch
Items you may want to include in your order​