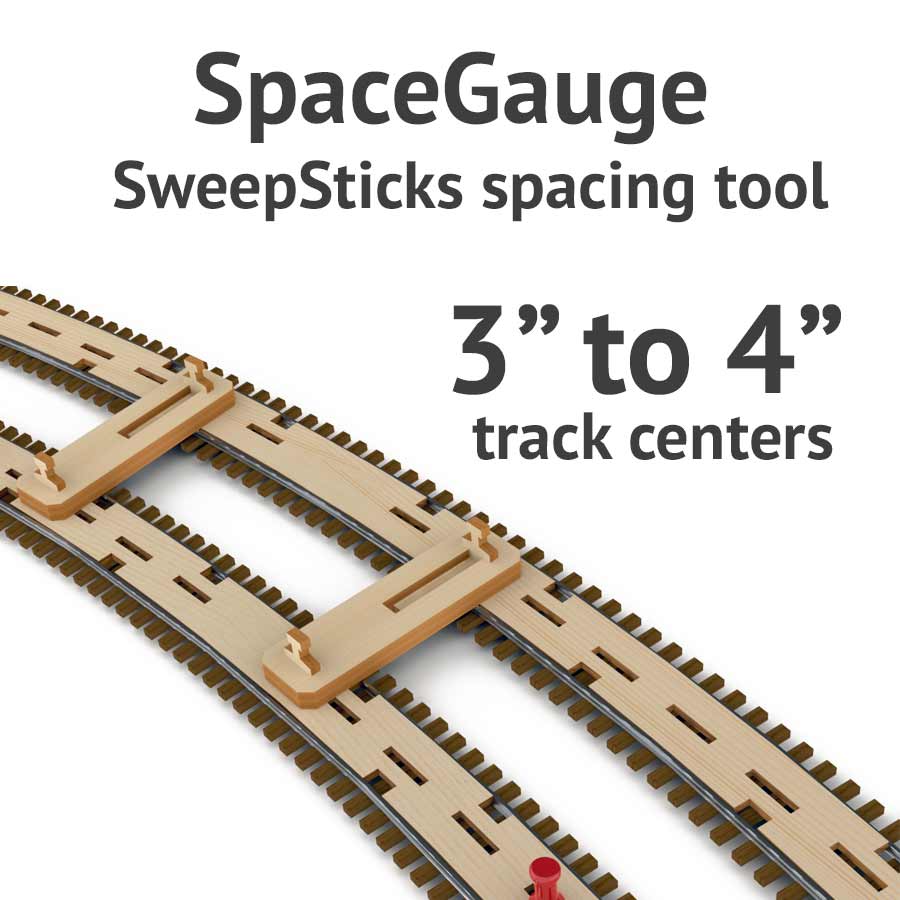 25 In Stock
We can ship the SG-3-4 immediately. If you order more than what we have available, the additional units will be automatically added to our production queue.
PRICE : $8.00
25 in stock
Use our SpaceGage tool to correctly align straight and curved parallel track lengths. Designed for use with our SweepSticks track forming tool, the SpaceGage will hold lengths of SweepSticks precisely spaced apart to aid in maintaining track centers while laying flextrack.
Our SpaceGage SweepSticks Spacing Gage is:
Adjustable – Set the tool to the track spacing standards you wish to maintain, then glue permanently to lock the tool
Precise – SpaceGage tools will set track centers perfectly every time!
Versatile – SpaceGage tools will work with all sizes of SweepSticks, straight and curved
Inexpensive – Available in packs of three. Purchase many, the more you have available, the easier it is to maintain your track spacing standards.
Flexible – Available in four different ranges, 1-2″, 2-3″, and 4-5″, to suit all scales and gauges.
A companion tool for SweepSticks, the SpaceGage is an easy-to-use tool to set the center to center spacing between lengths of parallel track. Easy to assemble and adjust to any spacing desired. Once set, the upper and lower halves are permanently glued together to produce a robust gauge that can be used repeatedly.
It is sold in kit form. Each kit will produce 3 SpaceGage tools.
Items you may want to include in your order​