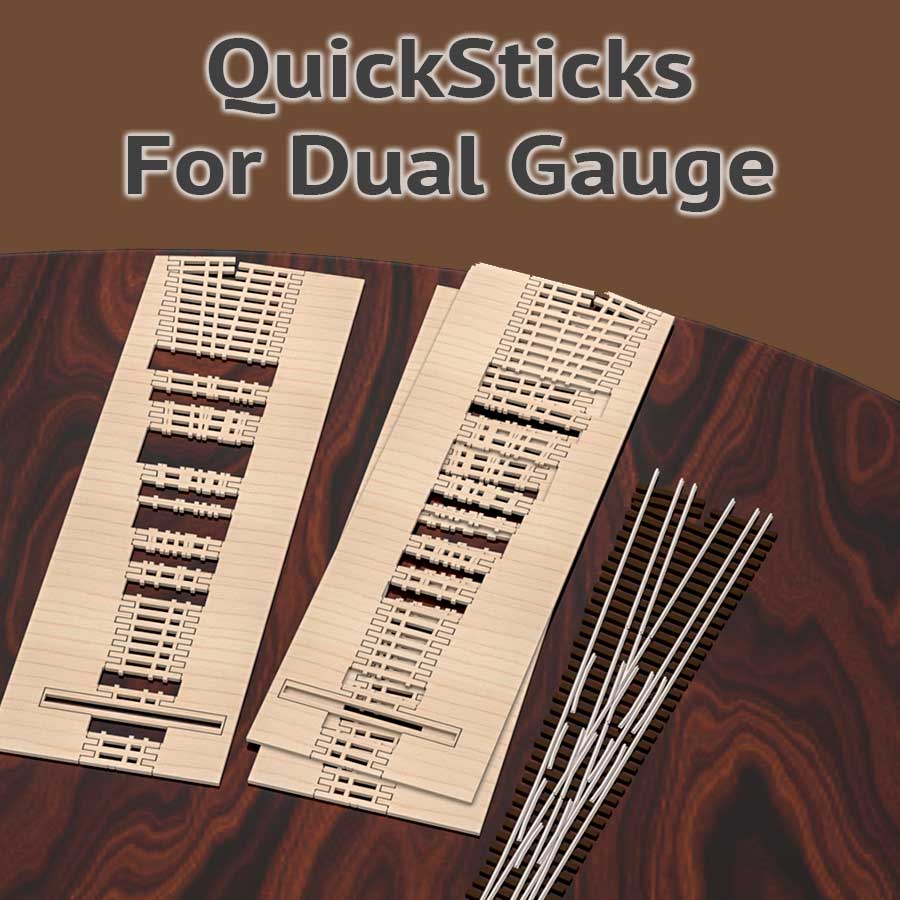 Built When Ordered
Production Time: 2 to 3 days
The LT-N-NN3-T-6-LR will be automatically added to our production queue when it is ordered.
PRICE : $11.09
N–Nn3 dual gauge, left-hand turnout with the narrow gauge on the right side have been specially designed for trackwork built with Fast Tracks dual gauge assembly fixtures. QuickSticks laser cut ties let you construct complete, ready-to-run dual gauge turnouts right at your workbench!
Using our track assembly fixtures, you build what we call a "skeleton." This skeleton will have PC Board ties located at key locations to keep the piece of trackwork in gauge. To finish the trackwork, our Laser Cut QuickSticks are used. With a single step, all the remaining wood ties are added to the pre-built skeleton, and the trackwork is ready to be installed.
Now anyone can build inexpensive, hand-laid trackwork that:
Looks Great! – With realistic-looking trackwork on wood ties
Is Easy To Build – With results that rival even the most experienced modelers
Performs Perfectly – Eliminates derailments
Looks Great! – Get results that rival even the most experienced modelers
Lets You Work in Comfort – Build trackwork at your workbench
QuickSticks are cut from Baltic Birch plywood custom sawn in Finland specifically for Fast Tracks. The wood grain runs perpendicular to the rails. The ties are 7" thick and 9" wide (scale). They will match all popular commercially available wood ties, including wood ties available from Fast Tracks.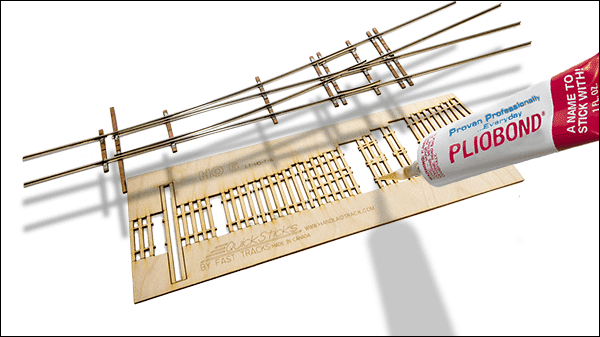 QuickSticks laser cut ties are designed to be glued to the rails using using Pliobond glue. This type of adhesive will provide a very reliable bond that will increase in strength over time.
PARAMETER
VALUE
DETAILS
Default Turnout Length
6.3" (160 mm)
This is the length of the turnout on the QuickSticks. Measured from end tie to end tie.

Minimum Turnout Length
4.3" (109 mm)
This is the shortest possible turnout length. Measured from the end PC board tie to end PC board tie.
Diverging Route Angle
9.46 (Decimal)
9°/27'/36"(D/M/S)
1:6 (Ratio)
Decimal = Frog angle in decimal degrees
D/M/S = Deg/Min/Sec
Ratio = Frog angle expressed as a ratio
Diverging Route Radius
23" (584 mm)
The minimum radius in a straight turnout.
Tie Spacing (Prototype)
20" (508 mm)
Tie spacing center of tie to center of tie.
Tie Size (Model)
L - 0.64" (16 mm)
W - 0.06" (2 mm)
H - 0.04" (1 mm)
The actual size of the tie.
Tie Size (Prototype)
L - 8.5' (2.6 m)
W - 9"(229 mm)
H - 7" (178 mm)
The original tie size that the model was based on.
Track Gauge
0.36" (9 mm)
The distance between the stock rails.
Size
L - 7" (178 mm)
W - 3.5" (89 mm)
H - 0.04" (1 mm)
The physical size of the product
Weight
0.05 lbs (0.023 kg)
Material
3 Ply Baltic Birch
Items you may want to include in your order​