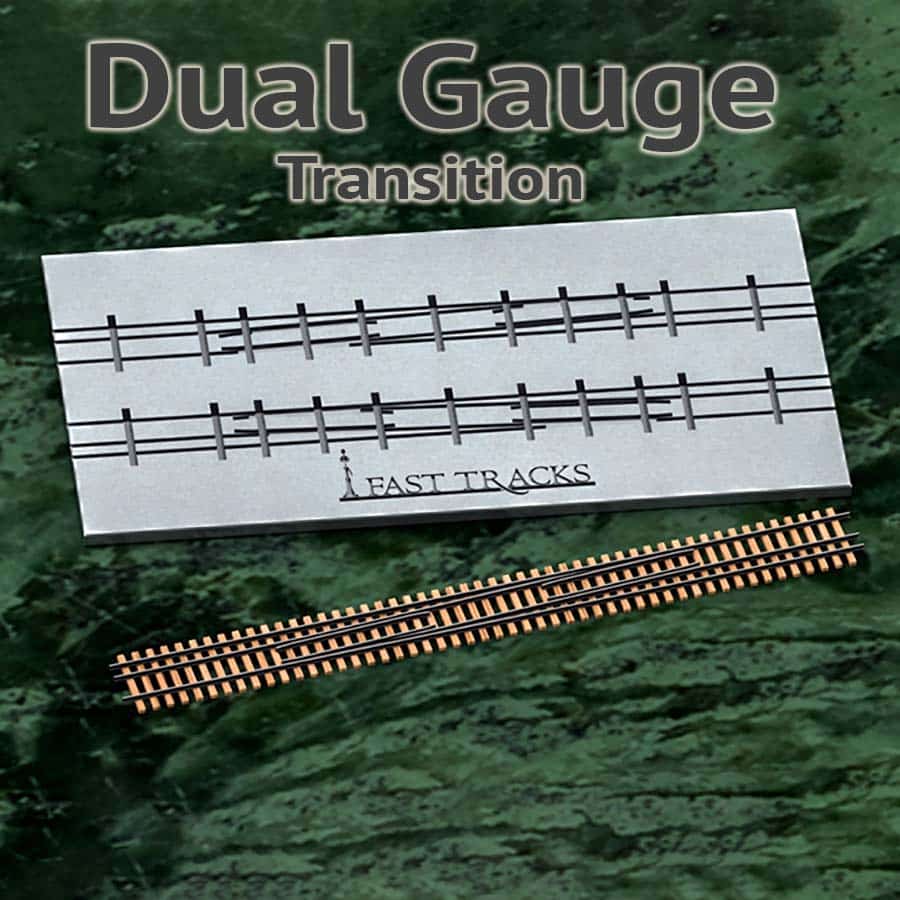 Built When Ordered
Production Time: 5 days
The DF-HO-HOn3-TR-ME70-M will be automatically added to our production queue when it is ordered.
PRICE : $129.39
This HO, Micro Engineering code 70, Dual Gauge Transition track fixture will produce smooth transitions from the left hand to the right hand (or the opposite) running on dual gauge trackwork.
The narrow gauge equipment can run on the left or right side of the standard gauge on dual gauge trackwork. Occasionally it is necessary to switch the narrow gauge from one side to the other, which is easily done with a piece of transition track built in this fixture.
A gentle 2°; angle, which can be formed using our standard PointForm tool, will ensure prototypical operation through the transition.
Fast Tracks assembly fixtures will help you build high-quality hand laid track that:
Is Highly Accurate – Build straight trackwork that stays in perfect gauge
Performs Perfectly – Eliminates track related derailments
Is Robust – Soldered trackwork stays in gauge – permanently
Is Easy To Build – No special skills needed
Looks Great! – Get results that rival even the most experienced modelers
Lets You Work in Comfort – Build trackwork at your workbench
Is NMRA Compliant – Will work with any NMRA compliant equipment
If you order this assembly fixture, we highly recommend that you consider purchasing a matching PointForm filing tool. This will make the construction of the frog points much easier.
In addition to code 70 rail, you will also need to purchase matching 0.08″ (2mm), (7 scale inches) thick, pre-gapped, CopperHead PC board ties manufactured by Fast Tracks for straight trackwork. Our PC Board crossties match the thickness of the wood ties and are pre-gapped for DC and DCC compatibility.
PARAMETER
VALUE
DETAILS
Rail Type
Micro Engineering Code 70
Tie Spacing (Prototype)
20" (508 mm)
Tie spacing center of tie to center of tie.
Tie Size (Model)
L - 1.17" (30 mm)
W - 0.1" (3 mm)
H - 0.08" (2 mm)
The actual size of the tie.
Tie Size (Prototype)
L - 8.5' (2.6 m)
W - 9"(229 mm)
H - 7" (178 mm)
The original tie size that the model was based on.
Track Gauge
0.66" (17 mm)
The distance between the stock rails.
Size
L - 10" (254 mm)
W - 6" (152 mm)
H - 0.25" (6 mm)
The physical size of the product
Weight
1.8 lbs (0.816 kg)
Material
6061 Aluminum