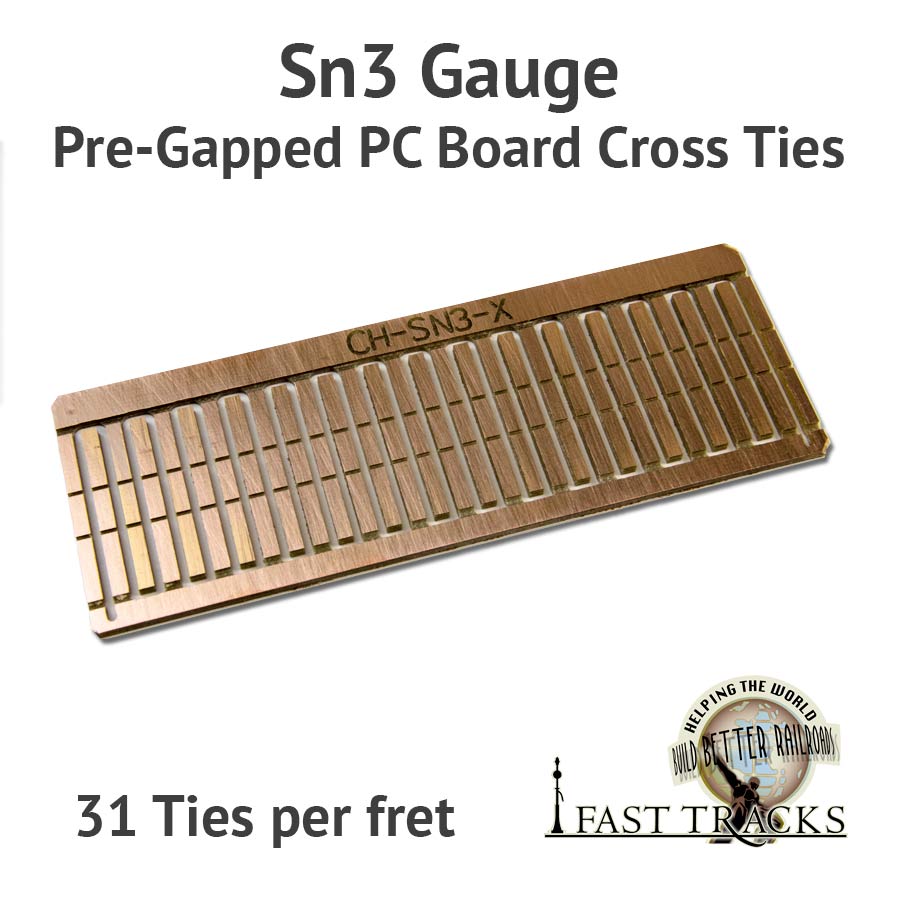 4 In Stock
We can ship the CH-Sn3-X immediately. If you order more than what we have available, the additional units will be automatically added to our production queue.
PRICE : $4.49
4 in stock
Sn3, 1/16" (0.062" / 1.6mm) thick pre-gapped, copper cladded PC Board Crossties are designed to match the height of the wood ties used for Sn3 scale straight and curved trackwork and are pre-gapped for DC and DCC compatibility.
Fast Tracks CopperHead PC Board ties are machined to shape rather than sheared or stamped, producing a perfectly flat tie with no twisting or warping and very clean, crisp edges. The copper cladding is applied to both sides of the tie with double isolation gaps cut close to the rail on one side, making it easy to disguise the gap during final finishing.
1/16" (0.062" / 1.6mm) thick – matches Sn3 wood crossties
Pre-Gapped – eliminates the need to hand file the gaps into the ties
Double Gapped – with gaps cut close to the rail to help disguise them
Cut to length – no further preparation required
Machined, not stamped – perfectly flat with no twisting and clean edges
Sold on a fret of 31 ties.
Tie Dimensions
PC Board Tie Dimensions
| Size | Length | Width | Height |
| --- | --- | --- | --- |
| Prototype Imperial | 7' | 7" | 5" |
| Model Imperial | 1.31" | 0.11" | 0.08" |
| Prototype Metric | 2.1m | 177.8mm | 127mm |
| Model Metric | 33.3mm | 2.8mm | 2mm |
Items you may want to include in your order​