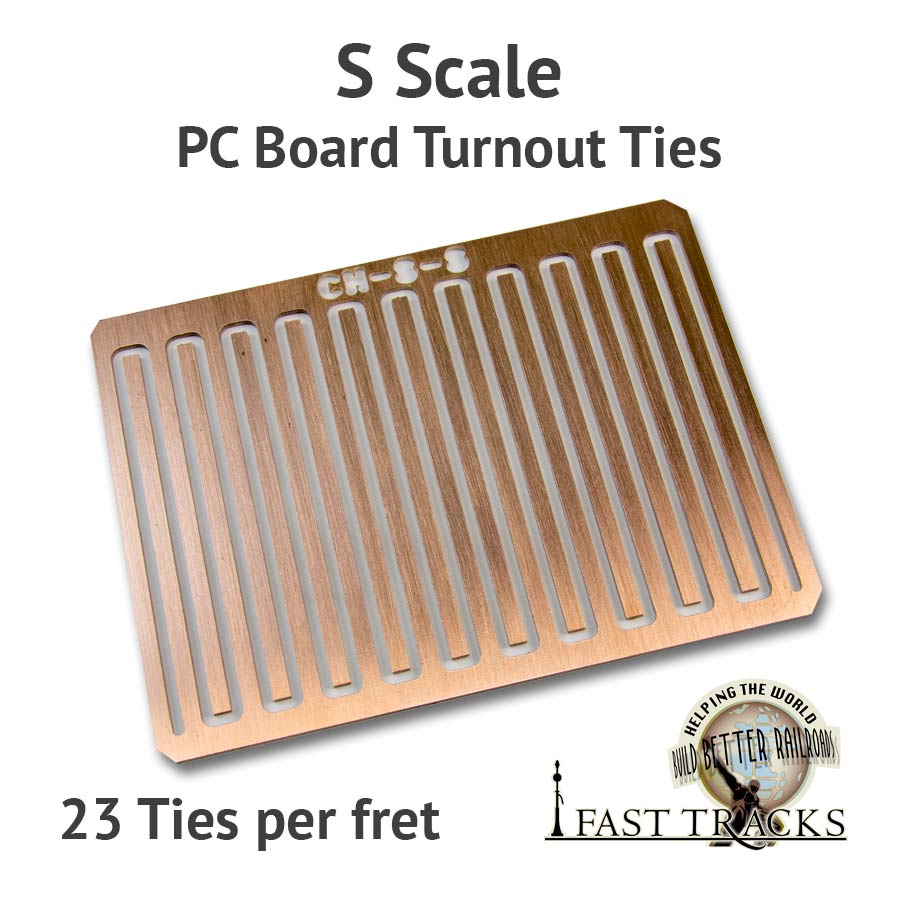 51 In Stock
We can ship the CH-S-S immediately. If you order more than what we have available, we will hold your order and add additional units required to our production queue. The lead time for this product is shown above.
PRICE : $4.99
51 in stock
S, 1/16" (0.062" / 1.6mm) thick CopperHead PC Board Ties are produced using Fast Track's unique routing process that allows us to offer ties with a very clean edge, precise dimensions and are always perfectly flat. The copper cladding is paper thin, allowing you to cut the copper with a small file or rotary tool to isolate the rails. Both sides of the tie are copper-cladded.
Copper cladded fiberglass PC Board ties are used at strategic points in hand-laid trackwork to hold the rails in gauge permanently. The remaining ties are filled in with wood ties.
When painted, the PC Board ties will become nearly invisible, blending in with the wood ties. While some sizes of CopperHead PC board ties are not as high as standard wood ties, this will not be an issue. Once soldered to rail, the thinner PC board ties will "float" between the wood ties, the space is hidden when the track is ballasted.
Using our printable tie templates as a guide, cut the ties to the lengths you need for your turnout. While specifically designed to fit all Fast Tracks assembly fixtures, they can also be used for any hand constructed trackwork.
To speed up cutting the PC board ties to length, check out our TieBreaker tie cutting tools!
Sold on a fret of 23 ties.
PC Board Tie Dimensions
| Size | Length | Width | Height |
| --- | --- | --- | --- |
| Prototype Imperial | 17' | 9" | 4" |
| Model Imperial | 3.19" | 0.14" | 0.06" |
| Prototype Metric | 5.2m | 228.6mm | 101.6mm |
| Model Metric | 81mm | 3.6mm | 1.6mm |
Items you may want to include in your order​