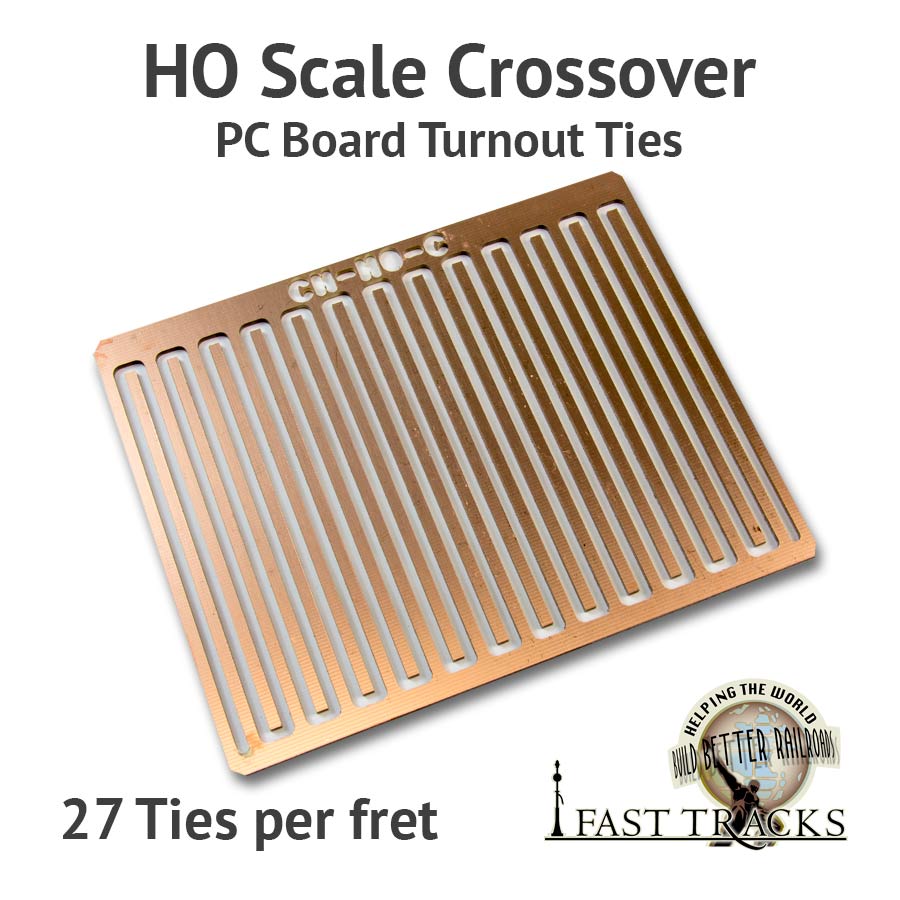 45 In Stock
We can ship the CH-HO-C immediately. If you order more than what we have available, we will hold your order and add additional units required to our production queue. The lead time for this product is shown above.
PRICE : $6.49
45 in stock
HO scale, 1/16" (0.062" / 1.6mm) thick CopperHead PC Board Ties are produced using Fast Track's unique routing process that allows us to offer ties with a very clean edge, precise dimensions and are always perfectly flat. The copper cladding is paper thin, allowing you to cut the copper with a small file or rotary tool to isolate the rails. Both sides of the tie are copper-cladded.
Copper cladded fiberglass PC Board ties are used at strategic points in hand laid trackwork to hold the rails in gauge permanently. The PC Board ties are soldered into place with wood ties added to complete the trackwork.
Designed to span trackwork built on 2" centers (15 scale feet) track centers, our HO Crossover ties are specifically cut with extra long ties to allow a single tie to span both tracks. On a crossover, having one tie span the width of 2 tracks is standard practice. These ties are typically used in single or double crossovers.
When painted, the PC Board ties will become nearly invisible, blending in with the wood ties.
Using our printable tie templates as a guide, cut the ties to the lengths you need for your turnout. While specifically designed to fit all Fast Tracks assembly fixtures, they can also be used for any hand constructed trackwork.
Sold on a fret of 27 ties.
Tie Dimensions
PC Board Tie Dimensions
| Size | Length | Width | Height |
| --- | --- | --- | --- |
| Prototype Imperial | 25' | 9" | 5.5" |
| Model Imperial | 3.44" | 0.1" | 0.06" |
| Prototype Metric | 7.6m | 228.6mm | 139.7mm |
| Model Metric | 87.5mm | 2.6mm | 1.6mm |
PARAMETER
VALUE
DETAILS
Default Turnout Length
" ( mm)
This is the length of the turnout on the QuickSticks. Measured from end tie to end tie.

Minimum Turnout Length
" ( mm)
This is the shortest possible turnout length. Measured from the end PC board tie to end PC board tie.
Diverging Route Angle
Standard (Decimal)
Standard(D/M/S)
1:Standard (Ratio)
Decimal = Frog angle in decimal degrees
D/M/S = Deg/Min/Sec
Ratio = Frog angle expressed as a ratio
Tie Spacing (Prototype)
" ( mm)
Tie spacing center of tie to center of tie.
Tie Size (Model)
L - " ( mm)
W - " ( mm)
H - " ( mm)
The actual size of the tie.
Tie Size (Prototype)
L - 25' (7.6 m)
W - 9"(229 mm)
H - 5.5" (140 mm)
The original tie size that the model was based on.
Secondary Frog Angle
°
The second frog angle for any switch that has two frogs.
Track Gauge
" ( mm)
The distance between the stock rails.
Track Spacing
2" centers (15 scale feet)" (2" centers (15 scale feet) mm)
The center to center distance of the parallel track.
Size
L - " ( mm)
W - " ( mm)
H - 1/16" (1/16 mm)
The physical size of the product
Weight
0.121 lbs (0.055 kg)
Material
Items you may want to include in your order​