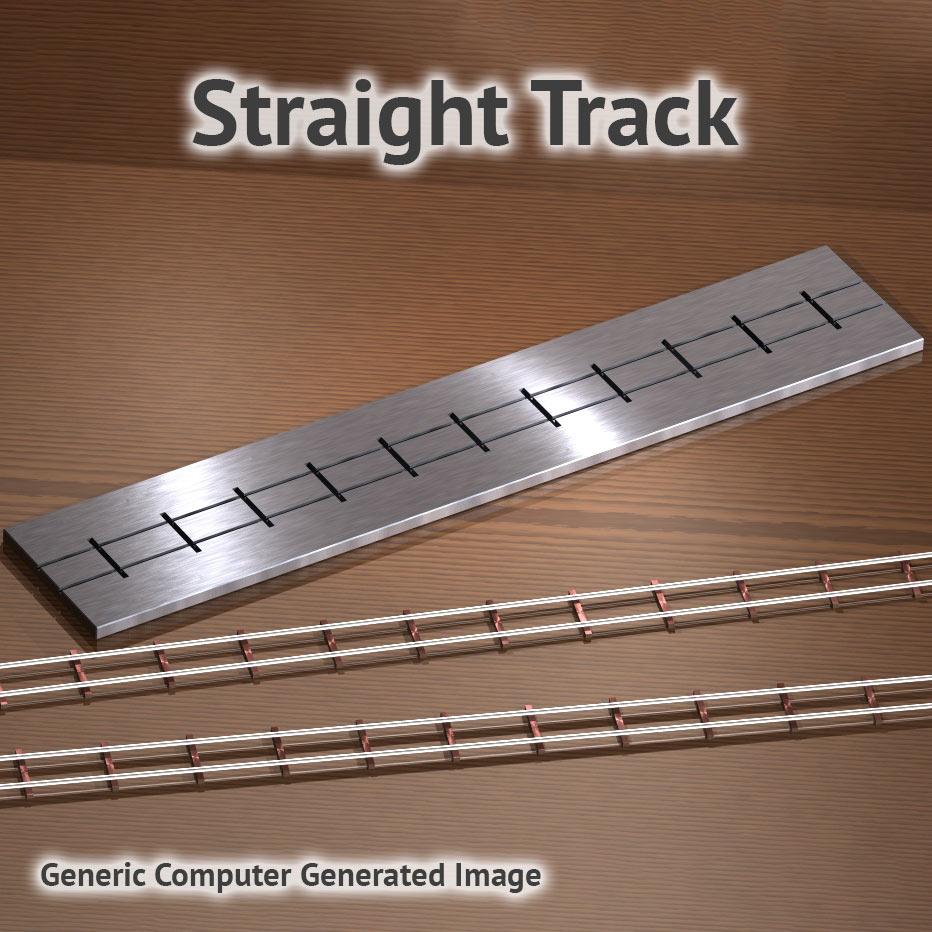 Built When Ordered
Production Time: 5 days
The AF-O-A-ME100-B will be automatically added to our production queue when it is ordered.
PRICE : $76.39
Build unlimited lengths of perfectly straight track with Fast Tracks Straight Track Assembly Fixture.
Part of the Fast Tracks Infinite™ Track System, this O Micro Engineering code 100, straight track Assembly Fixture can be used to construct straight lengths of branchline trackwork quickly and easily. Even though this fixture is only 16.5" (419mm) long, it can be used to make unlimited lengths of perfectly straight track! Once a section of track is constructed in the fixture, it is simply moved over, and the next section added. A single length of track with minimal rail joints can be built to any length needed by staggering the rail joints. Trackwork built using Fast Tracks fixtures is NMRA compliant and will easily outperform any store bought track! No special skills are needed, and results are guaranteed. Fast Tracks assembly fixtures will help you build high-quality hand laid track that:
Is Highly Accurate – Build straight branchline trackwork that stays in perfect gauge – permanently
Performs Perfectly – Eliminates track-related derailments
Is Easy To Build – No special skills are needed
Looks Great! – Get results that rival even the most experienced modelers
Lets You Work in Comfort – Build trackwork at your workbench
Is NMRA Compliant – Will work with any NMRA compliant equipment
Additional Items
In addition to code 100 rail, you will also need to purchase matching 0.15" (3.8mm), (7 scale inches) thick, pre-gapped, O CopperHead PC board Crossties manufactured by Fast Tracks for curved and straight trackwork. Our PC Board crossties match the thickness of the wood ties and are pre-gapped for DC and DCC compatibility. Add our matching QuickSticks Crosstie Strips to your order to finish your trackwork. These laser-cut wood tie strips make finishing straight trackwork a snap! We also offer traditional single piece wood cross ties as well.
Click on the Supplies Tab above to add additional items needed to build trackwork to your order. Try our Supplies Calculator to determine the consumable items you will need for your trackwork project.
TIE SPACING SPECIFICATIONS
Standard Gauge
| Mainline | Branchline | Siding |
| --- | --- | --- |
| 20" | 22" | 24" |
Narrow Gauge
| Mainline | Branchline |
| --- | --- |
| 22" | 24" |
PARAMETER
VALUE
DETAILS
Rail Type
Micro Engineering Code 100
Tie Spacing (Prototype)
22" (559 mm)
Tie spacing center of tie to center of tie.
Tie Size (Model)
L - 2.25" (57 mm)
W - 0.19" (5 mm)
H - 0.15" (4 mm)
The actual size of the tie.
Track Gauge
1.27" (32 mm)
The distance between the stock rails.
Size
L - 16.5" (419 mm)
W - 3" (76 mm)
H - 0.25" (6 mm)
The physical size of the product
Weight
1.3 lbs (0.59 kg)
Material
6061 Aluminum