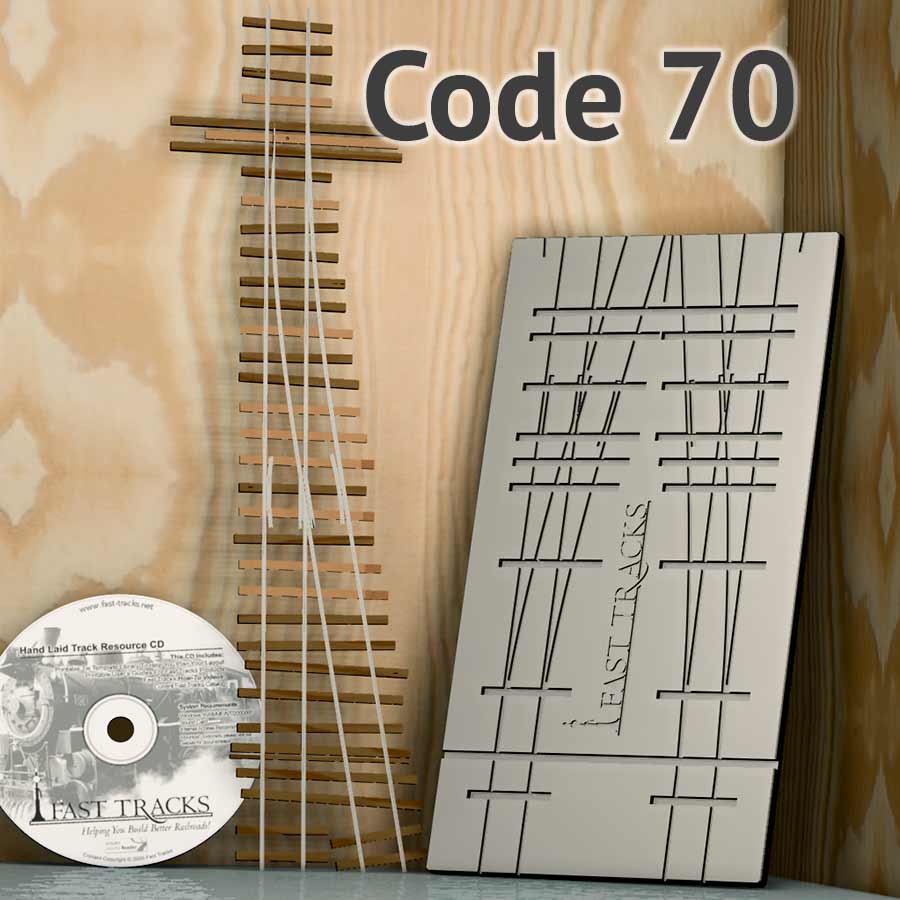 Built When Ordered
Production Time: 5 days
The AF-HON3.5-T-5-ME70 will be automatically added to our production queue when it is ordered.
PRICE : $152.89
Hand laying your own HON3.5 scale #5 Turnouts is not as hard as you might think! Tools and technology designed and manufactured by Fast Tracks make it possible for you to build your own high-quality, NMRA compliant turnouts.
With this HON3.5, #5 turnout assembly fixture, you can build an unlimited supply of turnouts when you need them, at the comfort of your workbench, in about an hour. Fast Tracks, the turnout assembly fixture system developer, has been producing its line of extremely precise tools since 2003. We've worked out all the details to make building trackwork as easy as possible, so now any modeler can produce the most accurate, best-looking, and smoothest operating trackwork available.
Build turnouts that not only look great but will eliminate track related derailments and frustration.
How Will Fast Tracks Assembly Fixtures Help?
Fast Tracks assembly fixtures will help you build high-quality hand-laid track that:
Is Highly Accurate – Build turnouts that stay in perfect gauge – permanently
Performs Perfectly – Eliminates track related derailments
Is Economical – Build hundreds of turnouts with one fixture
Is Easy To Build – No special skills are needed
Can Be Built Quickly – Build a turnout in less than an hour!
Looks Great! – Get results that rival even the most experienced modelers
Lets You Work in Comfort – Build trackwork at your workbench
Is NMRA Compliant – Will work with any NMRA compliant equipment
Each assembly fixture can be used to build right or left Turnouts.
To finish off your trackwork, add our matching QuickSticks to your order. These laser-cut wood ties will make finishing turnouts a snap, glue the complete set of pre-cut ties to the turnout, and it's done! We also offer traditional single piece wood turnout ties as well.
If you order a Fast Tracks assembly fixture, we highly recommend that you consider purchasing matching PointForm and StockAid filing tools. This will make the construction of the switch and frog points much easier.
In addition to code 70 rail, you will also need to purchase matching 0.0625" (1.6mm), (7 scale inches) thick, CopperHead PC board turnout ties manufactured by Fast Tracks.
Click on the Supplies Tab above to add additional items needed to build turnouts to your order. Try our Supplies Calculator to determine the consumable items you will need for your trackwork project.
PARAMETER
VALUE
DETAILS
Default Turnout Length
9.8" (249 mm)
This is the length of the turnout on the QuickSticks. Measured from end tie to end tie.

Minimum Turnout Length
6.8" (173 mm)
This is the shortest possible turnout length. Measured from the end PC board tie to end PC board tie.
Diverging Route Angle
11.31 (Decimal)
11°/18'/36"(D/M/S)
1:5 (Ratio)
Decimal = Frog angle in decimal degrees
D/M/S = Deg/Min/Sec
Ratio = Frog angle expressed as a ratio
Diverging Route Radius
26" (660 mm)
The minimum radius in a straight turnout.
Tie Spacing (Prototype)
20" (508 mm)
Tie spacing center of tie to center of tie.
Tie Size (Model)
L - " ( mm)
W - " ( mm)
H - 0.0625" (2 mm)
The actual size of the tie.
Tie Size (Prototype)
L - 7' (2.1 m)
W - 9"(229 mm)
H - 7" (178 mm)
The original tie size that the model was based on.
Track Gauge
0.47" (12 mm)
The distance between the stock rails.
Substitution Radius
31" (787 mm)
The approximate radius that the diverging route of a turnout can be fit into. This calculation was made using the shortest possible turnout length measured from the edges of the PC board ties, not the wood ties.
Size
L - 10" (254 mm)
W - 6" (152 mm)
H - 0.25" (6 mm)
The physical size of the product
Weight
1 lbs (0.454 kg)
Material
6061 Aluminum