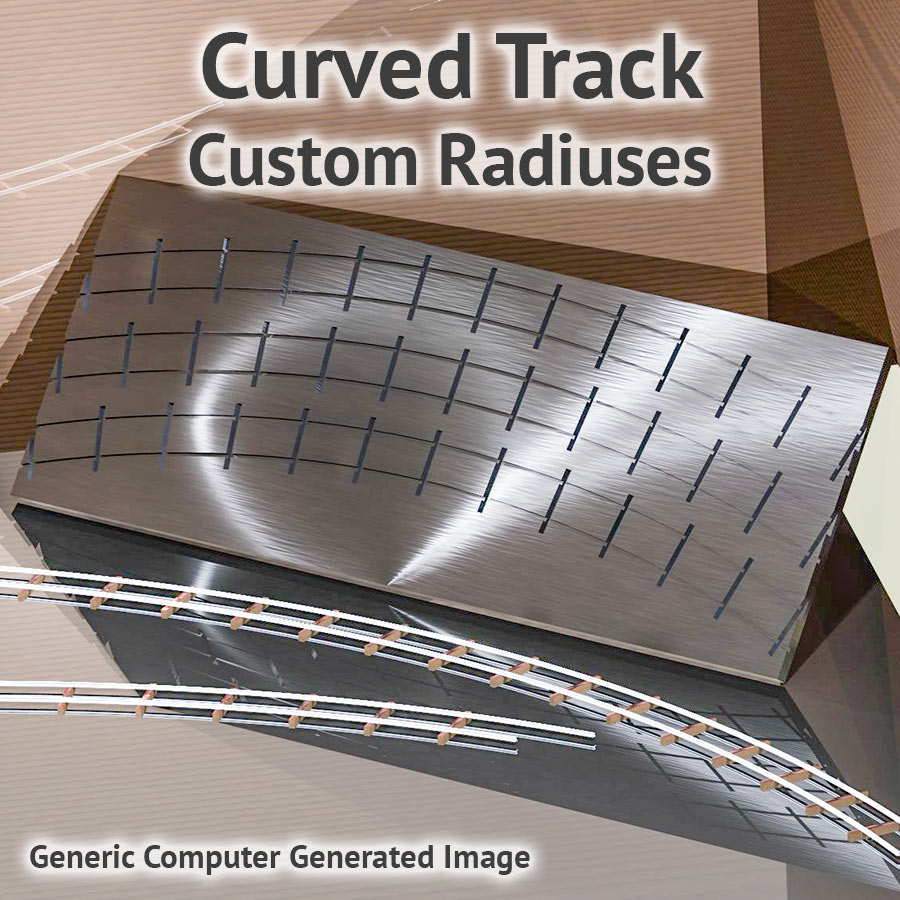 Built When Ordered
Production Time: 5 days
The AF-B-HO-ME100-C will be automatically added to our production queue when it is ordered.
PRICE : $170.49
Can't find the exact radiuses that you need in any of our pre-defined curved track assembly fixtures? Not a problem! Enter the exact radius and track types (mainline, branchline, siding) that you need in the boxes above, and we will create a custom curved track fixture for your specific needs. Note that custom-built curved track assembly fixtures are premium priced, so you should try and order pre-designed curved track fixtures wherever possible.
Trackwork built using Fast Tracks fixtures is NMRA compliant and will easily out-perform any store bought track! No special skills are needed, and results are guaranteed. Fast Tracks assembly fixtures will help you build high quality hand laid track that:
Is Highly Accurate – Build curved Custom trackwork that stays in perfect gauge – permanently
Performs Perfectly – Eliminates track related derailments
Is Easy To Build – No special skills are needed
Looks Great! – Get results that rival even the most experienced modelers
Lets You Work in Comfort – Build trackwork at your workbench
Is NMRA Compliant – Will work with any NMRA compliant equipment
In addition to code 100 rail, you will also need to purchase matching 0.08" (2mm), (7 scale inches) thick, pre-gapped, HO CopperHead PC board Crossties manufactured by Fast Tracks for curved and straight trackwork. Our PC Board crossties match the thickness of the wood ties and are pre-gapped for DC and DCC compatibility.
Add our QuickSticks Crosstie Strips to your order to finish your trackwork. These laser-cut wood tie strips make finishing straight trackwork a snap! We also offer traditional single piece wood cross ties as well.
Using Fast Tracks tools and supplies, building curved trackwork is no different from building straight trackwork and does not require any special skills. The only real difference is that the rail needs to be pre-curved. To ensure that the rail is properly pre-bent, we highly recommend you consider including a Fast Tracks Rail Roller with your order. The Rail Roller tool will make it easy to create smooth, consistent curves and ensure that the rail is properly pre-bent to retain its shape over time.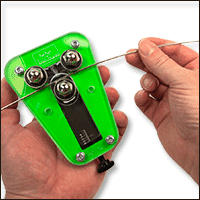 Failure to pre-bend the rail for curved trackwork will result in solder joint failure over time!
Note: We reserve the right to add any custom-designed product to our standard product line using our regular pricing.
TIE SPACING SPECIFICATIONS
Standard Gauge
| Mainline | Branchline | Siding |
| --- | --- | --- |
| 20" | 22" | 24" |
Narrow Gauge
| Mainline | Branchline |
| --- | --- |
| 22" | 24" |
PARAMETER
VALUE
DETAILS
Rail Type
Micro Engineering Code 100
Tie Size (Model)
L - 1.17" (30 mm)
W - 0.1" (3 mm)
H - 0.08" (2 mm)
The actual size of the tie.
Tie Size (Prototype)
L - 8.5' (2.6 m)
W - 9"(229 mm)
H - 7" (178 mm)
The original tie size that the model was based on.
Track Gauge
0.66" (17 mm)
The distance between the stock rails.
Size
L - 16.5" (419 mm)
W - 6" (152 mm)
H - 0.25" (6 mm)
The physical size of the product
Weight
2.6 lbs (1.179 kg)
Material
6061 Aluminum